ColorWay Glossy Tempered Glass 2.5D - 3D
24 January 2018
---
Cost of current displays is a significant part of smartphone value. With bigger diagonal the display becomes more vulnerable to possible damage.
In order to protect your screen, ColorWay offers Glossy Tempered Glass 2.5D - 3D screen protectors.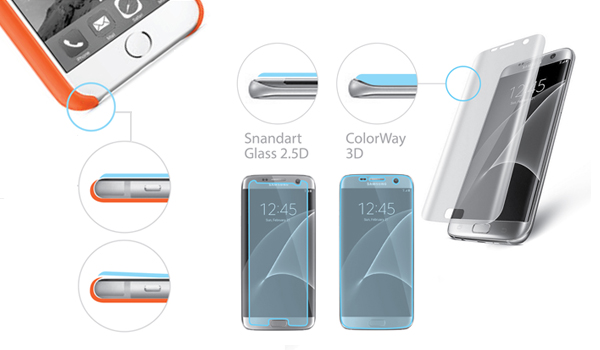 Glossy Tempered Glass is a glossy tempered glass that protects your screen due to 9H hardness class. Special manufacturing method helps to minimize damage from bumps or falls. Special protective layer does not allow the fragments fall to pieces, keeping them together.
ColorWay Glossy Tempered Glass is a multi-layer glass that, due to its fabric, does not affect the screen sensitivity and color reproduction, as well as prevents the unwanted stains and fingerprints on the display surface.
Glossy Tempered Glass is made as 2.5D and 3D screen protectors.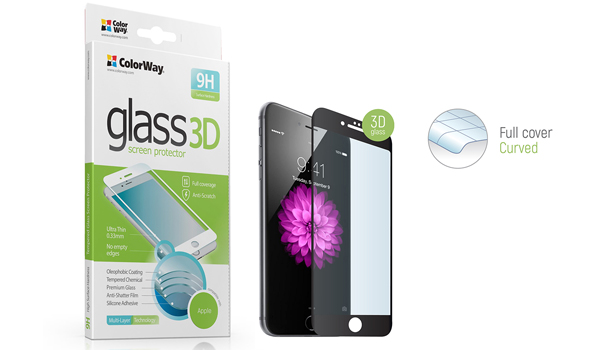 2.5D ColorWay glasses, in contrast to 2D glasses, have a rounded edge, which ensures a more convenient use of both smartphone and tablet.
2.5D screen protector has rounded edge only, so it is stuck to the flat part of the glass; this does not ensure a complete covering of curved or rounded screens. In this case, the size of the 2.5D glass is calculated based on the area of ​​the main flat part of the screen. The rounded edge of the display will remain unprotected.
ColorWay 3D glasses are designed exactly for smartphones with rounded edges.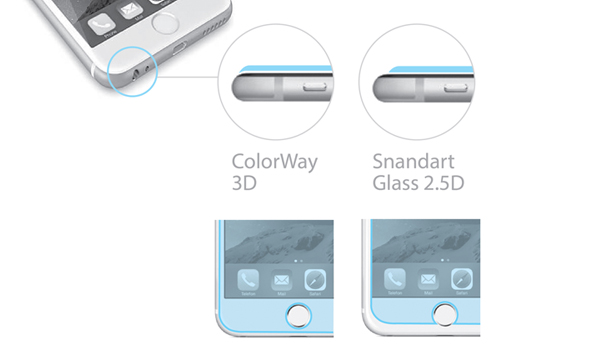 3D glasses have a curved shape, which completely repeats the display outlines, covering its entire surface. A distinctive feature of these screen protectors is the base, which allows to protect the entire working surface of the screen with all technical holes, covering the remaining part of the front panel.
Recommendations. When choosing a 3D glass, please consider that due to the full screen coverage it is poorly compatible with some types of phone cases and bumpers, namely those that partially touch the screen parts. Due to the tight fit and thickness of the glass, the phone case edge can make pressure on the glass; this can release the glass fixation along the edges and cause the glass to become unstuck.
Advantages of ColorWay Glossy Tempered Glass:
- resistance to scratches and shocks
- better protection compared to film
- oleophobic coating guarantees has less fingerprints on the screen and is easily cleaned
- screen protector does not affect the display brightness, sensitivity and color reproduction
- simple installation without air bubbles compared to film
---
Share: