ColorWay adds new category in product portfolio – Power Bank
27 March 2017
---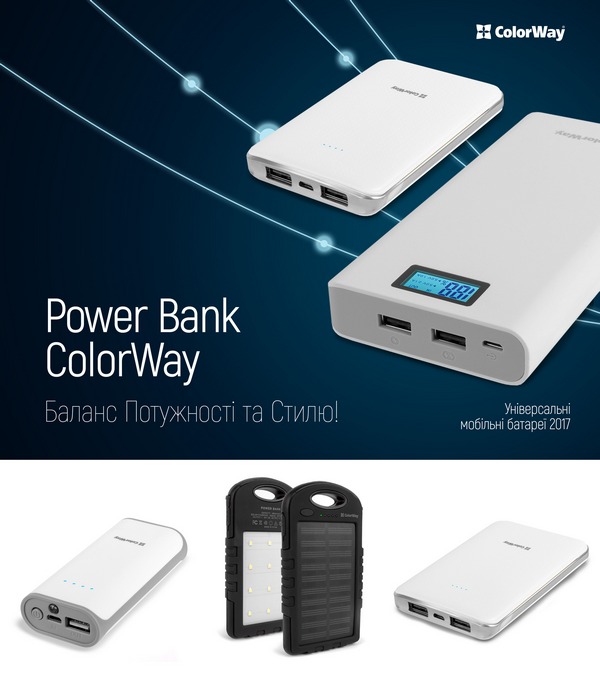 This march ColorWay widened product portfolio with such in-demand nowadays product as Power Bank. ColorWay range of power banks consists from 8 models with capacity from 2200 mAh to20000 mAh.
Portability and availability to be online 24/7 become top prior for the modern person. Therefore, the presence of a rechargeable battery at hand or in a bag, is relevant for residents of megacities, small towns and travelers.
All the range of the models of power banks ColorWay was selected the way to satisfy the individual preferences of any user.
Being highly reliable with outstanding quality and convenience in usage, the batteries also have a number of additional advantages:
∙ Wide range of batteries with capacities from 2200 mAh to 20000 mAh.
∙ Fast charge technology 3.0.
∙ Functionality: the presence of a flashlight, solar panel recharging, LCD display for monitoring the level of charge, intelligent charging module.
∙ Original design solutions: from classic stylish and compact, to bright and sporty, with comfortable rubber inserts along the contour for protection when falling.
Each model combines several useful functional chips and innovative solutions. Power Bank ColorWay is the optimal combination of power and style!
Portative batteries ColorWay are already available in Ukrainian stores and is advantageously priced to an affordable, which makes the product attractive to customers.
---